Wednesday, June 10, 2020
Memories from a Plain(s) and Simple Childhood by Carter Flynn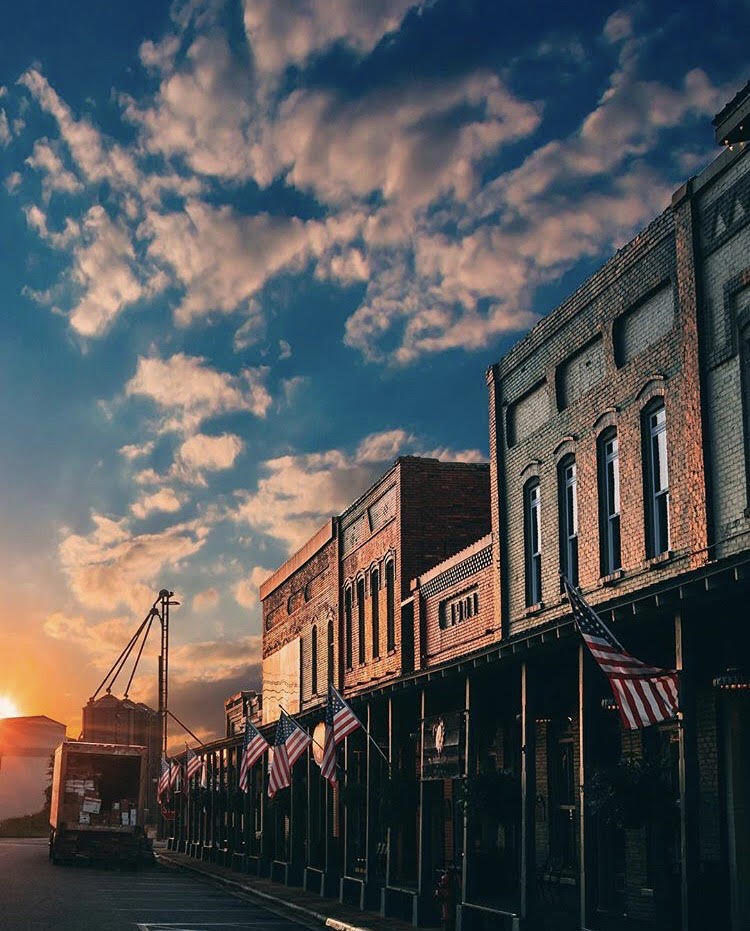 If you're looking to plan a trip this summer that's both driveable and family-friendly, Columbus, Georgia is the perfect place to ease back into travel again. The city's location makes Columbus an ideal destination for families looking to explore West Central Georgia's most popular attractions. One of the most famous nearby attractions is President Jimmy Carter's hometown of Plains.
Known for its hospitality and rich history, Plains has captured the hearts of visitors for generations. But what is it exactly about Plains that keeps people coming back for more? Read the following personal essay from one of our staff members, Carter Flynn, to discover why and how Plains captured her heart one summer as a child.
Memories from a Plain(s) and Simple Childhood
An essay by Carter Flynn
"I'm not going." I said to my mother as I watched her pack my monogrammed duffel bag with the entire contents of my summer wardrobe. "Yes, you are." She responded, "Your father and I both have to work, so your Aunt Kim kindly offered to let you stay with her for a month." While all my friends had excitedly boasted over their impending vacations, I rolled my eyes at the thought of spending my own fourth-grade summer in Plains, Georgia – the ghost town with a population of less than 700 and average age of 62.
I continued to pout the duration of the 45-minute car ride from Albany, intermittently begging my mother to turn around and take me home. Although my family had lived in Plains for countless generations, this peanut-producing mecca was a foreign land to me. My grandfather – Billy Carter – sold beer out of an old gas station in the 70s and 80s while his brother – known to me as "Uncle Jimmy" – is more commonly recognized as the former leader of the free world. At that time, I didn't know much about my family's history – nor did I care. It was June 2007. I was a child. I cared about my friends and fun times spent playing with them. I cared about making memories that would carry into the next school year. What I didn't care about was my own story, one that was planted decades ago and was soon to sprout.
When we arrived in town, my mother drove to the former Plains High School – now a National Park museum, a tribute to days long foregone. "What are we doing?" I asked my mother, irritated at even the idea of the dreary structure. She responded, "Your Aunt Kim volunteers here during the summer when she's not teaching. She told me she'd meet us here." I began grudgingly lurking up the daunting concrete steps into the brick building. After exchanging our goodbyes and one more failed appeal, my mother skirted off, leaving me with Aunt Kim and a promise to retrieve me in three weeks. I felt deserted, and I dreaded the dullness I was sure would ensue.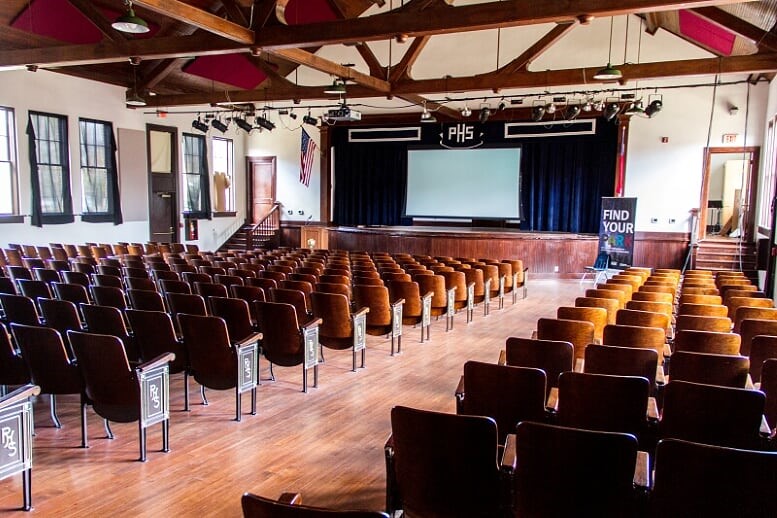 Plains High School | Photo by Luke Usry Photography
"Follow me," Aunt Kim said as she ushered me towards the auditorium. "I'm putting on a program in about an hour and I need to go get ready. We're expecting tourists to attend, so just wait here and people should start arriving soon. If you have any questions, ask the Park Ranger." Perplexed at why anyone would visit this spot, I agreed anyway and watched as Aunt Kim disappeared through the empty auditorium. The minutes dragged on; my sole companion the sound of the wooden floor creaking underneath a Park Ranger's boots. I bleakly stared at the words inscribed on the wall – We must adjust to changing times, but still hold to unchanging principles – taken from the wise doctrines of Miss Julia Coleman, a beloved past principle. Admittedly intrigued by Plains and her people, I began to wander through a nearby exhibit, and soon found myself face to face with an encased Nobel Peace Prize - a testament to this community's priceless influence on those it has raised. I was too young to fully understand the meaning behind this momentous honor, but I knew I was mesmerized to be in its presence.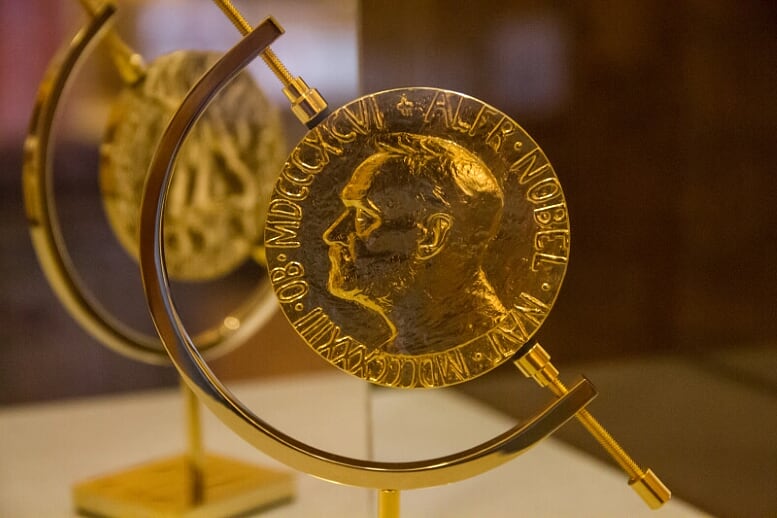 President Carter's Nobel Peace Prize on display in Plains High School. | Photo by Luke Usry Photography

I spent the next few days exploring the modest town, going out of my way to become friends with the thoughtful locals. A shy child, this was the first time I remembered chatting to strangers with such ease. With each treasured memory told from their melodious voices, I felt a growing sense of pride for a tale I was just beginning to uncover. And on the cricket-sung nights, the streets lit only by the stars above, I sat on Aunt Kim's front porch and admired her perfect view of downtown - humbly consisting of about seven buildings and a sidewalk overflowing with its own untold stories. Through my vulnerable eyes, it was the most magnificent sight I'd ever seen. The connection I had created with this place in just a few days had defined a part of me that I never knew existed. I was enthralled with Plains, Georgia – the simple destination with a genuineness greater than any I've ever known.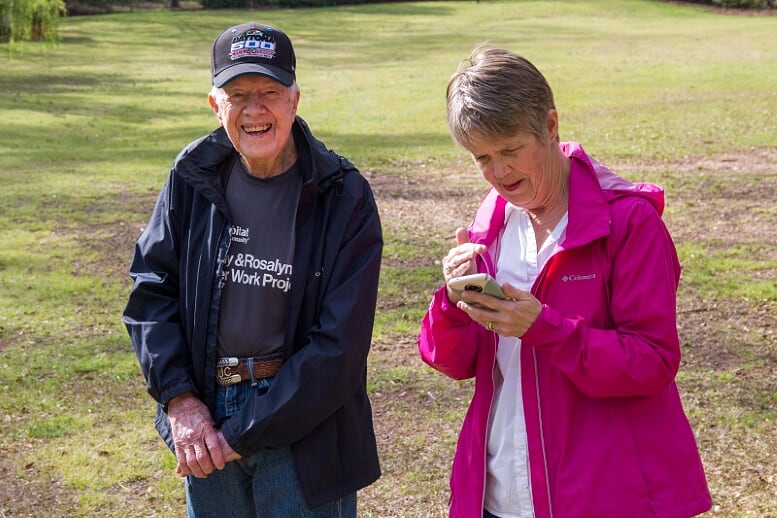 President Carter with his niece, Kim Fuller in Plains. | Photo by Luke Usry Photography

When my mother came to pick me up, I cried the entire way home. I realized that I had merely been a tourist, but my time in Plains had left such an everlasting impression on my young mind that I was forever indebted to them. They made a youthful and unbeknownst traveler fall in love with such a simple place. It was in that moment I made a promise to myself – one day I would reciprocate the compassion they had showed me. Over the years, I continued visiting periodically and increasing my investment in the community.
In August 2019 I arrived in Columbus, Georgia - the second largest city in the state. Columbus is a beautiful city with a small town, tight-knit feel - and a history that can still be seen today. This is a city with award-winning Broadway shows, some of greatest adventure courses in the state, nationally recognized museums, and impeccably preserved architecture – all within walking distance to some of the best meals I've ever tasted (just don't tell my grandmother I said this). I am thankful to be in a place where I can reach even larger audiences and continue to grow in my budding career.
Another bonus about Columbus is that I live in a populous, thriving, fun city with my favorite getaway – Plains – one hour and an easy, beautiful drive away. I can spend a day enjoying the simplicity and genuineness of (what I like to call) "the greatest small town in the South," while still making it back to Columbus in time to enjoy a phenomenal dinner followed by a performance at the Springer Opera House (which was named the State Theater of Georgia by then-Governor Carter in 1971).
To the people of Plains who make the community as wholesome and as kind as any can be, thank you. To Miss Carol, Miss Nelle, and Robin. To Jill and Andi. To my Mamama. To my Aunts, Kim, Jana, and Marle. To Cameron. To my Uncle Jimmy and Aunt Rosalynn. To the countless others who live and love in that beautiful town. And finally, to Miss Julia Coleman. Although our paths never had the honor to cross, her legacy lives on through her students. And her words are just as relevant today as they have ever been. Must we always remember to "adjust to changing times, but still hold to unchanging principles."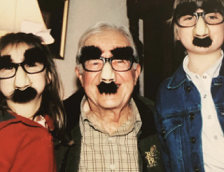 From left to right: Carter Flynn, her Uncle Jimmy, and her cousin Cameron. Taken in her Aunt Kim's living room in Plains, Christmas 2003.
Ready to plan a trip to Columbus, Georgia? Book your stay in Columbus, and head to Plains for a day trip your family will never forget.
Everything you need to plan the perfect trip is right here!
Categories: Family-friendly, History, Trip Ideas