Tuesday, September 12, 2017
Go All Out to the Movies!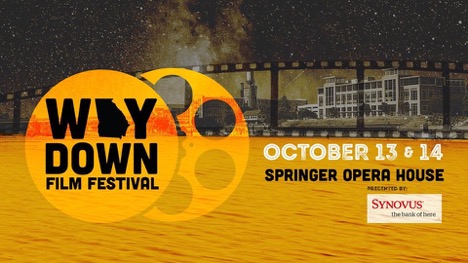 Seen a good movie lately? Normally, a trip to the movies requires you to battle crowds, pay expensive ticket and concession prices, and spend an hour and a half to two hours watching a movie that you aren't totally sure will be a good one. Of course, you love movies and stories and a night out and it seems like a good thing to do. But, have you been to a film festival before? With one short film after another made by aspiring directors, writers, and editors trying to tell a better story than you might see in Hollywood? Columbus invites you for a weekend of filmmaking at its best with the Way Down Film Festival at the Springer Opera House, October 13-14.
The Way Down Film Festival will consist of over 40 short films and 10 events throughout the weekend. A description:
Way Down Film Festival launched in 2016 as the first high-profile film festival in Columbus, GA. The inaugural WDFF showcased over 30 short films and celebrated the most innovative voices in narrative, animation, documentary, and experimental categories from all over the world. Curated into 6 different thematic genre blocks, each screening runs for 70-90 minutes and consists of varying short films. Viewed on a state-of-the-art projector and sound system, film screenings take place on The Main Stage of the gorgeous, historic Springer Opera House.
Following each screening, there is a filmmaker Q&A. Select filmmakers and celebrity/industry judges are also in attendance. Peppered throughout the two-day festival are rocking, celebratory receptions and networking gatherings.
Don't miss this! Make plans and reservations now and head to the movies at the Way Down Film Festival, October 13-14 in Columbus! Contact HERE for additional information.